Kitty Cheshire Ever After High Rebel Doll
#CDH53
Start a new chapter with Ever After High, where the teenage sons and daughters of famous fairytales decide whether or not to follow in their parents' fabled footsteps. Kitty Cheshire, daughter of the infamous Cheshire Cat of Wonderland, has chosen to rewrite her destiny as an Ever After Rebel -- and to do it in storied style. Fans of Ever After High will recognize her iconic outfit featured in the webisodes. Kitty has fashionistas grinning wearing a hexquisite purple dress with a cat-inspired print bodice, a black lace overlay on the skirt and short mesh sleeves. Purple chevron-patterned tights and "fur"-lined booties are the cat's meow, while earrings with yarn detailing are the purr-fect jewelry for this cool cat. Kitty Cheshire doll completes the legendary look with a fableous headband and bag that features the iconic Cheshire grin. Capture all of her poses using the included doll stand. Doll also comes with a bookmark that shares her hexclusive story and a doll hairbrush. Collect all of the spellbinding students of Ever After High (sold separately) for hexquisite display and storytelling fun. Colors and decorations may vary. Doll cannot stand alone. Ages 6 and older.
Brand new and never removed from a good package
Smoke-Free Home!
I will discount shipping if you win more than 1 auction
(Click on Pictures to enlarge)
---
Shipping:
Click on the "Shipping and Payments" tab (above) for actual shipping prices.
Shipping is Calculated Rate to the 48 contiguous United States. If available, please use the rate calculator for International and non-contiguous U.S. areas. If rates for your area are unavailable, please send us an email or an eBay message to request your rate. International Airmail Post shipments normally take 10 to 20 days for delivery, including shipments to Canada and Mexico. U.S. ground delivery normally takes 3 to 7 days. Priority Mail Normally takes 2 to 4 days for delivery.
The following is the estimated time for delivery after shipment. It does not include non-business days and holidays. It is provided by UPS as an ESTIMATE only and is not guaranteed.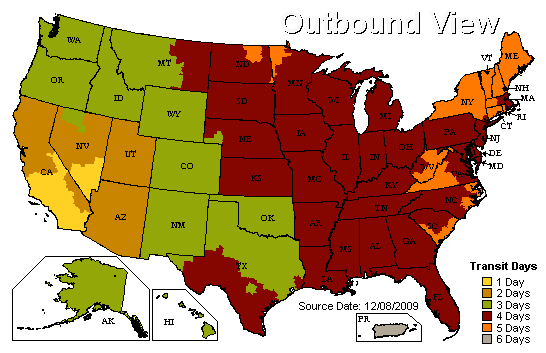 If a Priority Mail Rate is listed, it includes shipping to most United States locations. Non-Postal rates may include shipping to a physical address only (i.e. no PO Box, etc.). If auction does not specify USPS or Priority Mail, and you require a delivery to a PO Box or other "Postal Only" locations, please email us for a quote.
We may change shipping services between UPS and DHL at our discretion.
This item weighs approximately 2 lbs. (1 lbs. = .454 kg) including packaging.
Payment:
To enable quick processing of your item, we prefer PayPal. Other forms of payment may be held 1- 15 business days or more at our discretion. We apologize for this inconvenience, but must have verified funds to keep our costs and our prices down. Please use PayPal with available funds to recieve quick shipping.
Tax:
As required by law, we collect California State Sales Tax to all orders delivered to or received in California, USA. Tax collection and payment for all other States and Countries are the responsibility of the buyer and will not be collected by us.
Other Items:
You may be interested in our other listings on eBay. When possible, we will combine items purchased from us at the same time for discounted shipping. Thank you for bidding on maswo!!!